317-243-7982
—————————————————————————————————————
Movie -- CINEMA -- Prices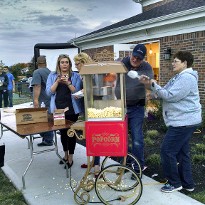 Pleace E-mail Us: Info@indybigscreen.com or Call 317-243-7982 For More Info.
Special prices are available!!!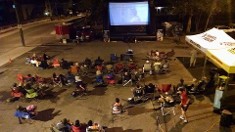 Now you can bring the cinematic experience to your private event.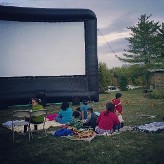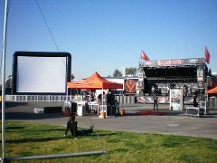 For Movies, Major Sporting Events, Personal Videos, etc, you can have the big screens setup in or outdoors for a true movie experience.
Note If you are interested in a large premiere, or outdoor movies on a bigger scale, including event production for the public,
please go to the Outdoor Movie Production link for further information.
This link will also have all of the information about film licensing rights if your event exceeds private use.
How to plan your Private Cinema Entertainment Indy Big Screen has several popular all inclusive packages listed below.
If you want something different, follow the 4 step process below.
For more complex setups, call us for more information.
A site inspection may be necessary for more creative setups.
Plan Your Private Cinema in 4 Steps
1. Choose Screen Size Indy Big Screen has 8 foot to 40 foot screens with matching projectors. Screens can be front or rear projection.
2. Choose screen attachment and placement - Self standing trusses are available for all screens also Inflatable Screen. Your space may have the ability to hang the screens against a wall or have it tied between trees or other objects.
3. Choose sound system - You can have a couple of basic DJ speakers all of the way up to full Cinematic Surround Sound.
4. Choose the content. What movie, personal video, sporting event etc. do you want to show.
All of the individual itemized prices for the elements above are on the
PRICES Link.

Pick Package & Click on Picture to send Indy Big Screen requist for price's
All Inclusive Private Cinema Packages**
Package (One) * 5 X 6 Screen * Truss Stand * Operator * Blu-ray™ Player * 2 speaker 1000 Watt Sound System * Digital Projector * Cables and Connections * Setup / Breakdown Package
---
(Two) * 12 X 23 Screen * Truss Stand/Inflatable * Operator * Blu-ray™ Player * 4 Speaker 1000 Watt Sound System plus 1000 watt sub bass system * Digital Projector * Cables and Connections * Setup / Breakdown Package
---
( Three ) * 12 x 20 Screen * inflatable operator Blu-ray™ Player * 2 Speakers 1200 Watt Sound System plus 1000 watt bass System * Digital Projector * Cables and Commections *Setup / breakdown
---
(Four) * 20 X 21 Screen * Truss Stand * Operator * Blu-ray™ Player * 4 speaker 2000 Watt Sound System plus 1000 watt sub bass system * Digital Projector * Cables and Connections * Setup / Breakdown
---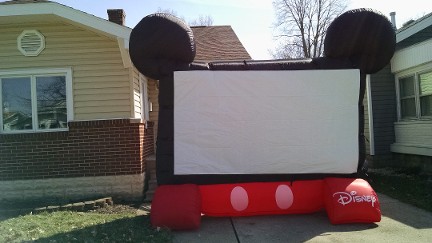 Five * 6 x 12 Screen * Inflatable Mickey Mouse *Operater * Blu-ray™ Player * 2 600 Watt Sound System Digital Projector * Cable and Connections * Setup / Breakdown
---
**Exceptional travel,load in and setup conditions may have additional charges **Power must be supplied by client
***Outdoor wind conditions must be 15mph or less
Multiple Screen Packages Available
All and any additional packages may be added for a 30% discount each
CALL FOR ALL PRICE LIST
317 - 243 - 7982